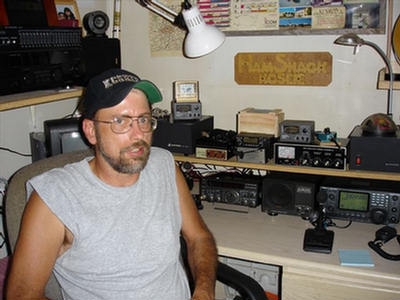 Me trying to relax in my Radio Room!
WHERE HAS TIME GONE? WELL! I'm still in Irving! Been married 19 yrs. to wife Linda (graduate from Cedar Hill'84)We have 3 kids! Amanda - 17 (Senior at Mac) Chelsea - 14 (Freshman at Mac), and Jake - 9. Jake is trying to survive with two teenage sisters and attending good ole grade school! OH BOY!!! Retired from commercial printing after 25+ yrs. Believe me, it has taken the best out of me! Spent 2006-2008 working for Kohls Dept Store (Valley Ranch)in Home Living. Helping customers with things they need and don't need! Been active in the hobby of radio, Amateur/Ham Radio for 20 yrs. Callsign - KC5EIE. Enjoy meeting and talking to people. Most of all, running into people from years past and chatting with them. Hope to see yall soon! Billy Moore - '78 Class Email: kc5eie@yahoo.com
Fun Facts:
Favorite 70s Car: 1971 Green Ford Torino - 351 ENGINE
Back Parking Lot



Billy Moore
Irving High School, Class of 1978, Irving Texas.