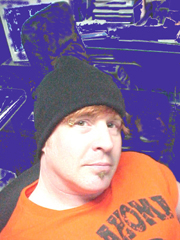 kickin back at the computer
Some of you may remember me as the guy who painted the big paper banners that the varsity football team ran through at the football games. I was also involved in creating the life size black silhouettes or sports figures along the auditorium wall (I think that's where they ended up). I also was involved in the Sets for the Senior Play.
I can't believe how many classmates have passed away, it's depressing! Where did I put my Xanax?
Now I am in Florida - still making art and now also making websites (it IS a visual medium) and also working in the financial services field doing daily stock market fund accounting. I would rather live anywhere else - like the mountains of North Carolina, or Seattle. I want to move back to Texas and look after my folks in Colleyville (DFW Airport now occupies where the house I grew up in once stood) - so if anyone knows of a job opp - send me an email: glenn@urartdood.com
Feel free to visit my website and send comments for me to post on one of my BLOGs, or if you need a website for your business, wedding, club, or family site I will be more than happy to give former classmates a discount. My site is:
http://urartdood.com/
(I now have Robert Coalter's website in my FAVs, I hope someday I might be able to use it!)
I have also exhibited my art in Europe and Australia, so I keep very busy.
Email me for my MySpace page or use the link on the Front Page of my Website.
See you all at the party!
Fun Facts:
Favorite 70s Car: Camaro (but I drove a Monte Carlo)
Front Parking Lot



Glenn McDaniel
Irving High School, Class of 1978, Irving Texas.