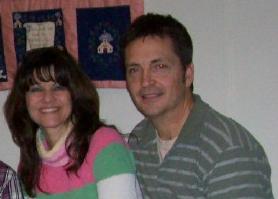 Lena & Steve Shelton
OUCH 30 years has passed since graduation, that sounds so much higher than 25! I left Motorola after 20 years and am presently working as a project manager at L-3 Integrated Systems in Greenville, TX, and commute the 85 mile one way trip. I've been married to Lena for 12 years now and we have 3 children between us. The oldest is Ryan 24 (from a previous marriage to Kathy Grafflin), Jennifer 23 (my wife's 1st child), and Chris 21 (my wife's 2nd child). Ryan graduated from UT and is working in Dallas as a financial analyst for an equity investment firm. Jennifer is a front desk manager at the Radisson Hotel at Esters Road. Chris works construction with his father's company. I have 2 grandsons Christian (1, Chris's son) and Kaleb (5, Jennifer's son). Being a grandfather is GREAT! I can't wait to see everyone at the reunion!
Fun Facts:
Favorite 70s Car: 1971 Chevelle Malibu
Front Parking Lot



Steve Shelton
Irving High School, Class of 1978, Irving Texas.