Teresa (Tuggle) Homme
Hey IHS78... I'm still living in Irving. Did move to Houston for 8 years and worked for Mobil then Phillips Petroleum; however, when the oilfield took a nose dive in the 80's, I came back home. Guess I should've hung in there... it's booming now! Upon my return to the Dallas area, I worked for the Real Estate Company that owned the "Big Green Bldg" downtown and helped run the radio/antennea site on top of the building. When the real estate company sold the building, I decided on a career change. I've been working at UT Southwestern Medical Center for the past 18 years in the Information Resources Department. We are responsible for the Telecommunications and Network Services needs for the entire campus and it's growing leaps and bounds. Ok enough about work. Now the personal stuff... I have 2 beautiful kiddos, Hayden 12 and Holly 10. I don't know how I got so lucky but they are the best kids in the world. They're both in advanced and gifted and talented classes and doing well. I remarried May 3, 2008 to a wonderful guy, Gunnar Homme and couldn't be happier. We bought Mom and Dad's house so we're back in the old "hood" again. Sadly to say, I lost Mom in 2001 and Dad in 2004. It's been difficult without them... Thank God for my younguns and my soul mate. Looking forward to seeing everyone. It's been awhile. We'll leave out just how many years it's been, right?? We're all still kids at heart as far as I'm concerned!! See ya October!!
Fun Facts:
Favorite 70s Car: Mustang
Back Parking Lot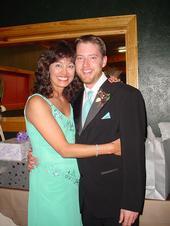 Gunnar and Me
Teresa Tuggle-Homme
Irving High School, Class of 1978, Irving Texas.